The World's Most Fuel Guzzling Countries
During the 1970s our annual consumption of natural resources began outstripping what Earth could reproduce. A few years later in 1987 Earth Overshoot Day was introduced to mark the exact day when our consumption entered 'negative equity'. This year that day fell on the 2nd of August, over three months earlier than it was 30 years ago, proving that our already unsustainable levels of consumption are growing year on year.
Despite renewables playing an increasingly bigger role, fossil fuels like crude oil are still one of Earth's leading (and depleting) energy resources. The International Energy Agency (IEA) predicts that global consumption of crude oil will grow from today's levels of over 89 million barrels a day to 105 million in 2030. Not only is this unsustainable, it has a huge negative impact on the environment contributing to global warming and climate change.
To help comprehend our insatiable appetite for crude oil, we have created an interactive map showing the daily oil consumption of each country across the world.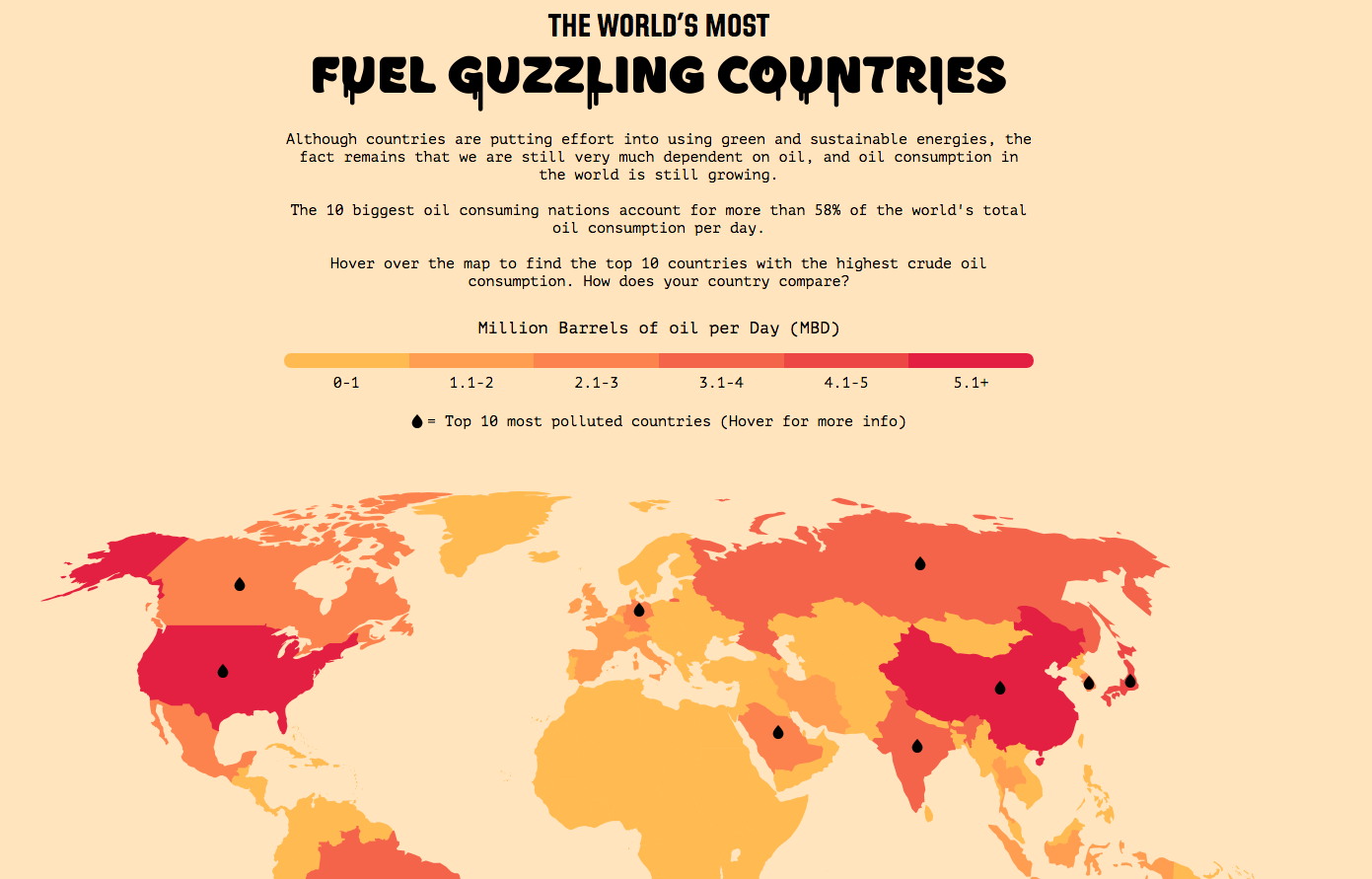 According to the data, these are the top ten biggest oil guzzling countries:
US

– 18.96 million barrels per day (MMbbl/d)

China

– 10.48 MMbbl/d

Japan

– 4.55 MMbbl/d

India

– 3.66 MMbbl/d

Russia

– 3.49 MMbbl/d

Brazil

– 3 MMbbl/d

Saudi Arabia

– 2.96 MMbbl/d

Germany

– 2.43 MMbbl/d

Canada

– 2.43 MMbbl/d

Republic of Korea

– 2.32 MMbbl/d
You can view the full interactive map here.
As this map shows, some countries clearly need to do more than others, but the fight against climate change is a global one that every country and person needs to be a part of.