How To Design Ecards
Don't be daunted by the prospect of the ecard project
eCO2 Greeting's design process is the simplest and most flexible available on the web. We put you in complete control and provide the tools to systematically build the perfect ecards for your business in just a matter of minutes. Having said that, because we have used all our expertise to turn what could be a difficult process into one that is genuinely creative and enjoyable, you may want to take your time and experiment before you decide which one is right for you
Each of our Christmas/Holiday ecards is up to 4 pages long with a front page/theme for your main message, second page for a more detailed message, 3rd page where we mention your tree planting and 4th page where you can give specific company information, website & social media links etc.
It is up to you how many pages you want to use so your final ecard can be 2, 3 or 4 pages long.
Before you start – Select your e card category
First you will need to select the event which you are celebrating. The vast majority of you will be looking for a Christmas / Holiday design however we do cater for other events such as New Year or Thanksgiving. Additionally we also offer custom corporate event ecards and everyday business ecards.
How to make truly personalised ecards for business
eCO2 Greetings' personalisation tools are simply the best you will find on any ecard website. – All are easy to use yet provide the ability to completely customise your ecard so that it is perfect for your company and brand. Here are our key tips for getting the best results from each feature:
Selecting your design – Selecting the right design to reflect your brand and the seasonal message you wish to convey is important. We have an extensive portfolio of front page and background page designs to choose from, some are explicitly Holiday themed and other more generic and seasonal, Some are classic and traditional, other more modern and vibrant. There are over 100 different designs so take your time to select ones that go together well.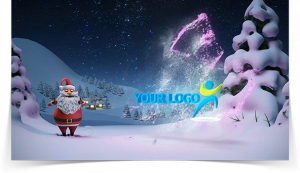 Add Music – Considering that music adds warmth and creates a better overall experience for the recipient, we are always surprising when a client chooses not to use it. We have over 20 different classic and contemporary tacks to choose from. Again, take your time to select one which complements your design to create the right overall mood.
Logo – The whole point of a corporate ecard is to keep your brand front of mind with customers. Unless you have a good reason not to, don't waste the opportunity?
Put some thought into your messages – At each stage we provide some suggestions for you, however from experience there is nothing better than your own, well considered greeting that will resonate with recipients and leave a lasting impression.
Page transition animation – We have different animation styles for how your card moves from one page to another (page transitions). Choose one that sits well with your design.
Typeface style, colour size and animation – Choose a typeface that fits your overall design along with colours and sizes to match. We also have a selection of different animations to configure how your message appears on the page. Choose something that works well with your design.
Page timing – You can adjust the length of each page in seconds so the card displays for exactly the right amount of time. How long is up to you but don't make it so short that your messages can't be read, or so long that the viewer stops watching before the end! For the real professionals out there, you can even have a go at timing each page change to match the music.
Uploading signatures – For no extra charge we can scatter multiple signatures around a page for that 'passed round the office' effect. Signatures can add a great personal touch to your ecard and makes it more closely reflect paper cards of the past. For an example of how multiple signatures can look, visit the FAQ page. To include signatures, simply email us a PDF of all your signatures on a single page and we'll do the rest.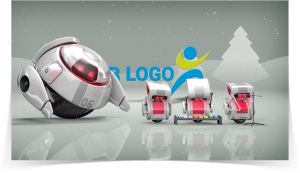 Links to your website – You can include a live link to your company website which is a great tool, especially if there is something new for them to see or buy. Who knows, your ecard might even earn some revenue for you.
Social Media – You don't need us to remind you how important having a social media profile is in modern business, so you can add links to your Linked In, Twitter, Facebook, and Google Plus accounts.
Company details – On the last page, if you want you can add your company telephone number and slogan.