How To Design Your Own Ecards
Welcome to eCO2 Greetings, the simplest way to make an ecard tailored to your business
eCO2 Greeting's ecard design process is the simplest and most flexible available on the web. We put you in complete control and provide the tools to easily create the perfect ecards for your business in just a matter of minutes. We've used our expertise to transform an otherwise difficult process into one that is creative and enjoyable, allowing you to build and test tailored ecards free of charge before deciding which of your designs is right for you.
Each of our Christmas/Holiday ecards is up to 3 pages long comprising a front page or 'theme', a second page for a detailed message and a third page for your company information, website URL and social media links.
You can choose whether to omit pages two and/or three from your final ecard design if you prefer, leaving it up to you how many pages long your ecard is.
Ready to get started? Select your e card category – we offer a wide selection of ecard designs, and while most of our users are looking for Christmas / Holiday designs, we also offer ecards suitable for other events such as New Years along with custom corporate event ecards, and everyday business ecards.
How to make an ecard truly personalised for your business
eCO2 Greetings' ecard design tools are simply the best you will find on any ecard website. Easy to use yet providing complete control of customization of your ecard so that the final product is perfect for your company and brand.
Here are our tips for getting the best results from making your own ecard using our customization features:
Select your ecard design
It's important to choose a design that reflects your brand narrative and the message you wish to convey. We offer an extensive portfolio of front-page and back-page designs to choose from, ranging from explicitly holiday or Christmas themed to more generic seasonal designs. There is a wealth of ecard designs to choose from so take your time and choose ones that match well with the tone of your business.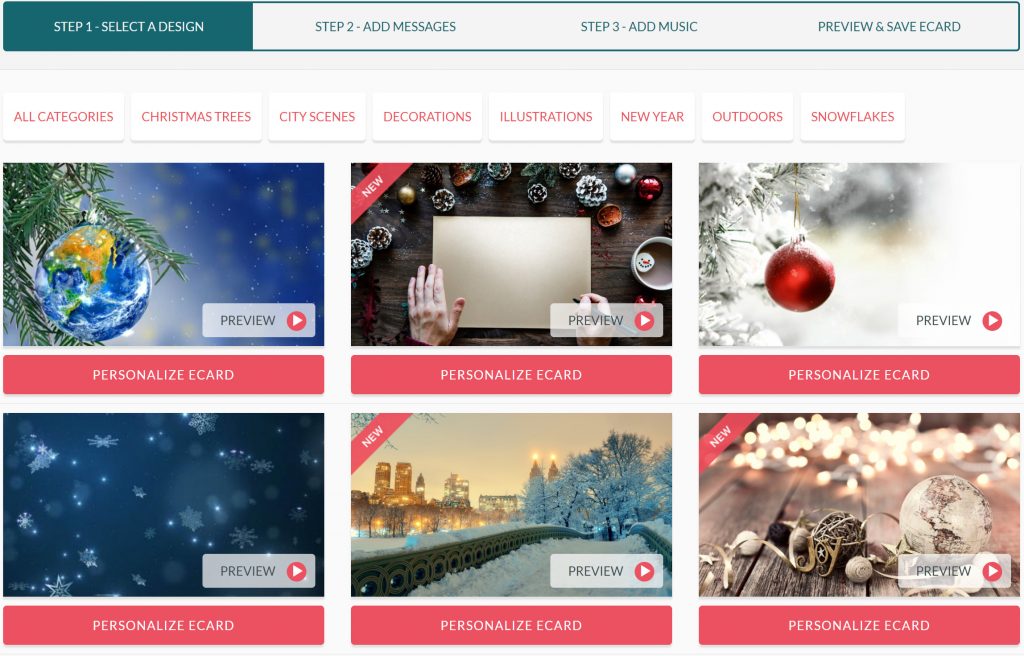 Customize the style, colour and size of your text
We pre-select fonts and colours that fit the theme you've selected, however you're free to customise this to your own preference. You have the option to adjust the font, colour and size of your text, so you can create something unique to your business.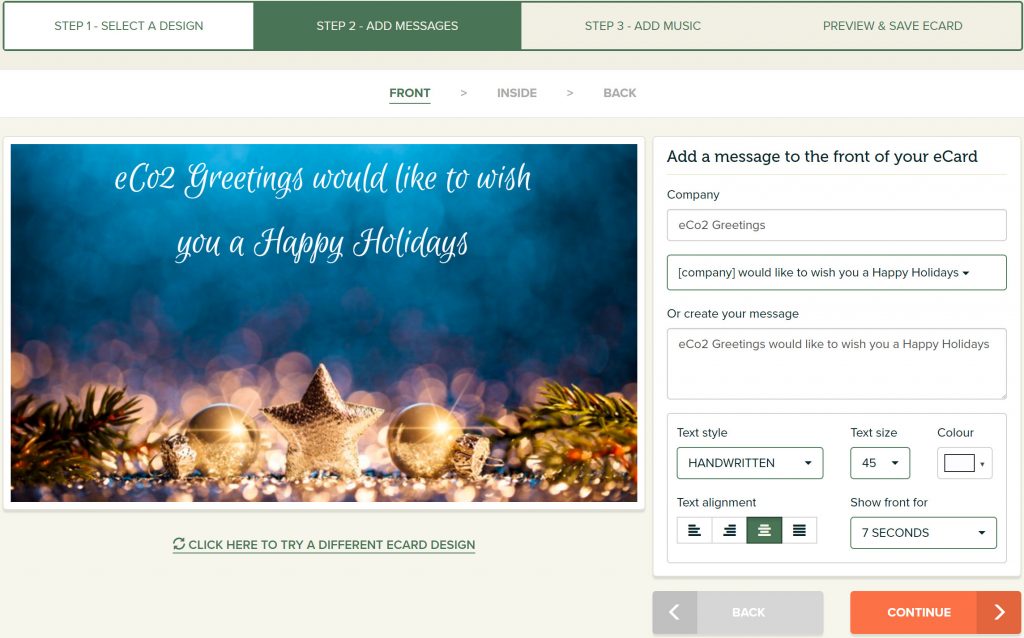 Add your company logo
Any messaging from your company should include your logo, and a corporate ecard is a great way to keep your brand front of mind with customers. Unless you have a good reason not to, why waste the opportunity?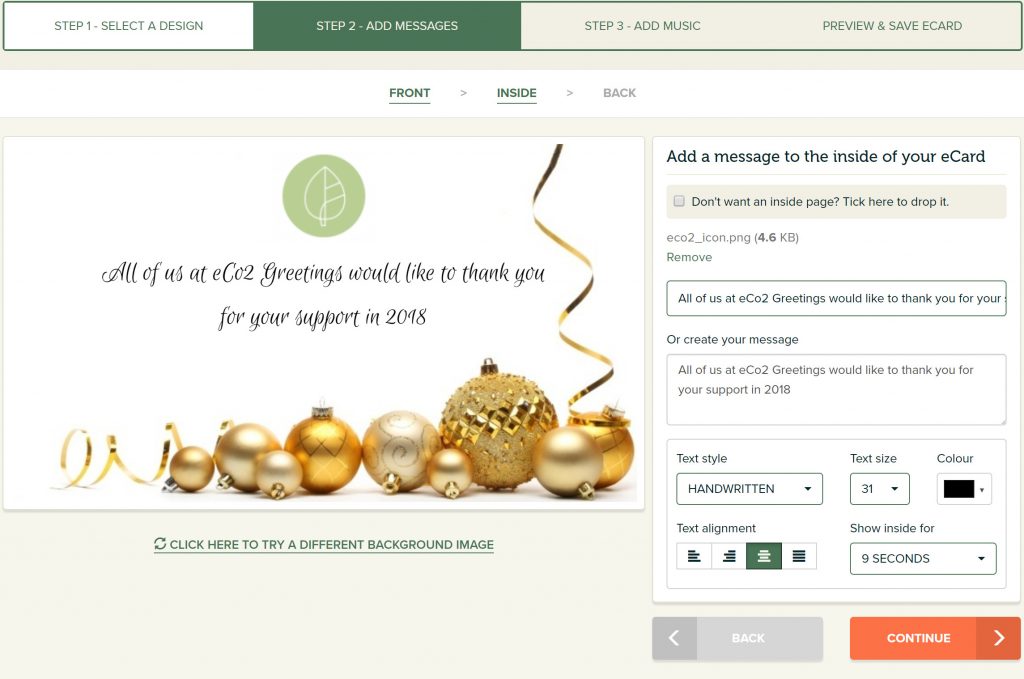 Add a personal touch to your ecard messages
At each stage we provide pre-written suggestions for the messages on your ecard design, however from experience there's nothing better than your own well considered greeting. You'll know best what with resonate well with your recipients and leave a lasting impression.
Page timing
You can adjust the length of each page in seconds so that the ecard displays for just the right amount of time. How long that is, is up to you; just take care to ensure it's long enough to allow your messages to be read and not so long that the viewer closes the card before the end. For the real professionals out there, try timing your page changes to match your ecard music.
Add signatures
You can upload a signature to your ecard to add another warm, personal touch. If you wish to add multiple signatures we can do this for you too, but there's a small fee involved – you can check this on our prices page. We ask that signatures are written in strong pen, scanned in and emailed over to us in PDF, JPG or PNG format. Please note that once we've added your signatures to the card the editor will be locked and you'll no longer be able to make changes to your design, so ensure you're happy with everything else first!
Links to your website
On the third page of your ecard design you can include a link to your company website, so if you've got something new to see, or even Christmas promotions, you can add a little tactful marketing to your holiday greeting.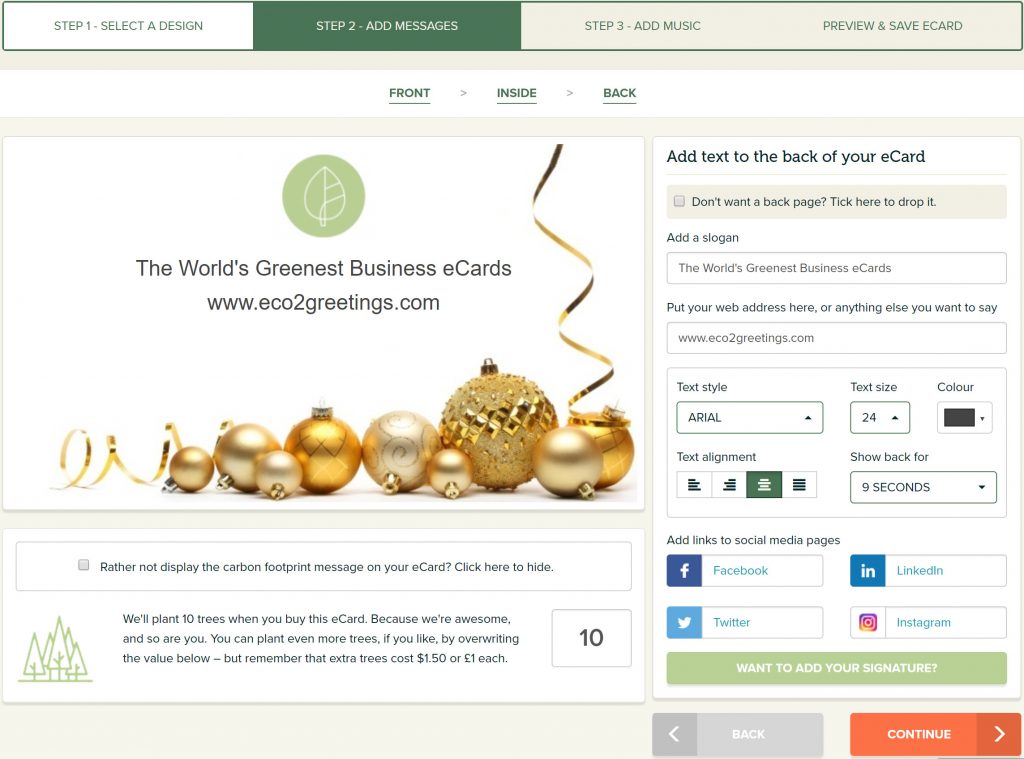 Social Media
Having active and engaged social media channels has become essential in business, so rest assured you can add links to your Facebook, Twitter, LinkedIn and Instagram pages on the last page of your ecard.
Add music (or don't)
We think music adds warmth and creates a better overall experience for the recipient, so we're always surprised when a client chooses not to use it. We have over 20 different classic and contemporary tracks to choose from so take your time to select one that works with your design and creates the mood you're looking for.