How To Send Business Ecards
One of the key benefits of ecards over paper cards is how swiftly and easily they can be distributed via email. Whether you will send your ecard emails yourself (recommended) or want us to send them via you via our ecard delivery service, this is an important part of your project to get right.
Art eCO2 Greetings we have years of valuable experience despatching ecard emails and the following guidance and advice is based on managing hundreds of projects successfully. Before going into detail, let us reassure you on two fronts:
eCO2 Greetings will provide all the help and support you need, whether you send your ecards or ask us to.
You won't be required to pass cards round the office for everyone to sign, address any envelopes or stick on any stamps!
How your ecard will appear in the email
We feel that your business ecards should be presented in a clear and elegant way in the email. We do this by providing access to your ecard via two links, a preview thumbnail of your ecard design with a 'play' arrow, and an alternative 'click here' button.
Here is an example of what the email with look like: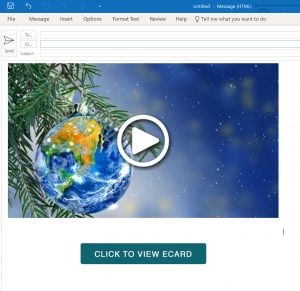 ECO2 Greetings Ecard Email Tips
Testing, testing, one, two.
In addition to the tools we provide for building your ecard, we also give you the facility to test your ecards free of charge, so there's no reason not to know with complete certainty that what you've built will work as intended. In the unlikely event it doesn't work as you'd like in testing, let us know! We're here to help.
Add a personal touch
Once you've pasted your ecard content into your email for sending, there's nothing stopping you adding a personal message to the email in addition to the links. This is not only a nice touch for your recipients, but also adds some extra security against spam filters, as some check the ratio of words and images in the email.
Your Ecard Recipient Email Address Data
As with any emailing exercise, the quality of your email address database will have a huge impact on successful delivery. Ensure your email address information is as up to date and relevant as possible whether you're sending ecards yourself, or having us send on your behalf via our ecard delivery service.
Avoidance of spam / junk folders
At eCO2 Greetings we realise the importance of email deliverability to our customer's ecard project. Accordingly, we minimise the risk of our ecards falling into junk folders by taking care to supply image links that aren't so large that they're likely to threaten the spam criteria of some email servers. Consider the volume of business that already use logo images in email signatures, and you'll see there's little to worry about with regards to your ecards reaching their destinations.
eCO2 Greetings Ecard Delivery Service
Whilst it is our firm recommendation that customers send their own ecards in order to remain in full control of the project, we do offer a delivery service for clients that do not have the time or resources available. We will despatch your email professionally and on time using a market leading email marketing platform.
The options available within the ecard email delivery service are as follows:
Choice of name in the 'From' field – e.g. your company name
Choice of which email address will receive any replies
Choice of email subject wording
Choice of date that the emails are despatched
Choice of how the recipient is addressed in the email (Dear name, name or none)
Option to add additional messaging in the email itself above the ecard links
As we supply this service at a nominal cost to assist customers unable to send ecards themselves, we are unfortunately unable to provide full data reports on the results of these campaigns. To do so would substantially increase the costs.
Sending the ecard yourselves – Recommended
Most of our clients select this option, which we strongly recommend as sending your own ecards will achieve the best results. Here's why:
Your email recipients regularly receive emails from you, so it's unlikely that any of your emails will end up in spam or junk folders. While at eCO2 Greetings we do everything available to ensure the safe delivery of your ecards, sending them from an unfamiliar domain URL carries a disadvantage in respect to avoiding spam filters.
You have more control of your email project! This means you can send your ecard in batches with unique messaging in each batch email or have your sales team send batches out directly from themselves to their customers, adding a personal touch.
You have the option of transferring the ecard links to your marketing team, who can send the email out with as much, or as little extra panache as they like, via your own email marketing platform.
Batch Your Email Sends
If you're sending your ecard emails directly from your own address and planning on using BCC (Blind Copy) to send to multiple recipients, take care not to send too many at once as this can make your email look like spam. We recommend sending your emails in batches of 20-30.
Getting your live ecard links
Once you've purchased your ecard you will be able to send it whenever you're ready via your account page (Your Account > Your eCards). When you click the 'Send Ecard' button on the relevant ecard you'll be taken to a 2 step page with simple instructions on what to do next. All you'll have to do is click the copy button, which will add your ecard image links to your clipboard and paste it into a new email. It's really that simple!
Sending from a central email account
If you are reading this then it's likely you're leading your company's ecard project, and you will probably also be the person charged with sending out the emails themselves, commonly from either a senior manager's email address or a general office email address such as admin@yourcompanyname.com. Some companies go as far as creating bespoke Christmas ecard email addresses to send from. While this is a nice touch, organising access to a central email account does add extra time and work to your ecard project so you'll want to take care to balance this.
Sending via an email marketing platform
If you have an in-house marketing team or expert on hand, they're likely familiar with the various market leading email marketing platforms that are available. These tools are incredibly efficient and greatly simplify the proposition of despatching large quantities of emails, allowing you to send to your entire ecard list in one go. They also give you access to statistics such as opens, clicks and can report back on whether there are email accounts in your list that are no longer active.
Distribute links to your colleagues
This is a popular approach because clients are often managed by specific individuals or departments within the business. You can delegate responsibility to the relevant customer contacts and allow them some freedom in personalising the batch they're responsible for with a message in the email itself. This often provides the best results in terms of open rates as the email will come from the most familiar email address within your organisation. Your colleagues will also have the necessary contact information already, removing the need to collate spreadsheets full of data into a master list to send yourself.
Share your ecard with your brands social media followers
During the holiday season our ecards can help you reach out to clients and others that follow you on social media. It's a good idea to spread some Christmas cheer to people you might otherwise miss by posting links to your ecard on your social media pages. If it gets shared you might even gain some welcome followers.