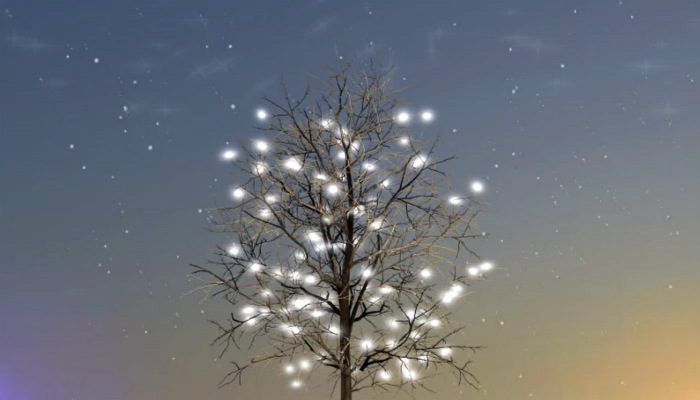 Fairy Light Christmas Tree
Christmas with its bright lights and twinkling decorations, stand out like a beacon in the middle of a dark cold winter.
At the centre of this feast of light are the Christmas tree fairy lights.
Our "Fairy Light Christmas Tree" email Christmas cards for business are the ideal card to send to people during this time. With its attractive animated picture of a Tree glowing with lights, sending this to all your colleagues and friends you will be spreading light into the darkness of their midwinter.
The animated front page with snow falling around a light-adorned tree has space for you to write a seasonal message.
This illuminating page can be accompanied three optional pages for you to add extra messages to your friends and colleagues in your business circle.
One of these optional pages also gives you the chance to boost your green credentials, by letting your circle of friends and colleagues know you are responsible for having ten new trees planted.
This is because we plant ten new trees for every one of our corporate holiday ecards we sell, and we give you the option to have extra trees planted if you wish.
Sending our corporate holiday ecards will bring even more benefits to you and your company.
Electronic cards will not require paper cards, envelopes, or expensive postage stamps, and there will be no last minute panic to catch the last post date for Christmas.