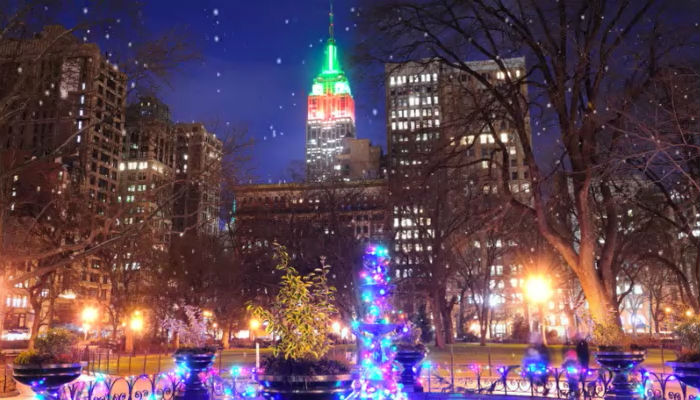 New York Holiday
New York the city that never sleeps, the city so good they apparently named it twice, and you are spending your holiday there.
You are enjoying the pleasures of Broadway, Madison Avenue and all the other attractions the Big Apple has to offer, you want to share them with all of your business friends and colleagues who are staying at home for the holidays.
The best way to send your goodwill message without going to the trouble and expense of buying real cards and envelopes would be to send our "New York Holiday" ecard.
This ecard is one of our selections of holiday ecards for business and has a very impressive animated front page. This picture shows New York lit up with snow falling all around.
The picture has room for a personal message for you to add, and the whole thing is accompanied by the jaunty version of the tune "Walking in a winter wonderland.
There are three optional extra pages for you to use if you wish.
The second page offers you the option to add your logo and a more substantial holiday message.
The third page lets your contacts know that by buying an e-card, we will plant ten trees, and you have the option to arrange for us to plant extra trees.
The fourth page has space team for your team's signatures, links, and contact numbers.
When you are busy enjoying your holiday our corporate ecards are the best way of sending your good will messages out to your friends in the corporate world.