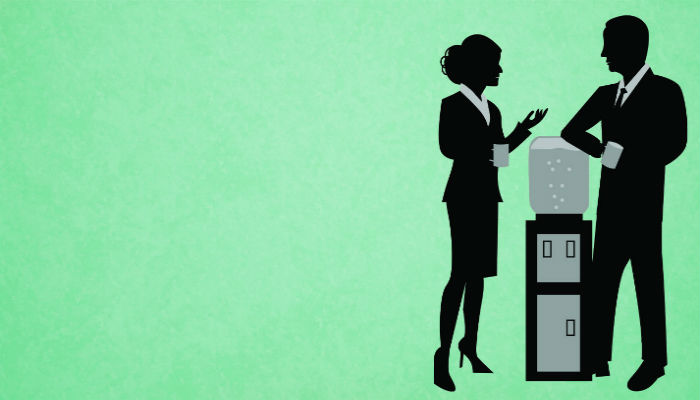 Water Cooler Humour Green
These corporate ecards are exactly what you make of them! The background of the ecards are Green and the picture shows two colleagues talking at a water cooler. There is no caption on this ecard and it has been intentionally left blank for you do to what you will with. If you've got good relationships with the people you work with, it's probable that you've got a few inside jokes and a card like this is the perfect opportunity to remind fellow co-workers of these jokes and give everyone a laugh. It can make a great gesture on someone's birthday or really boost the morale throughout the entire office if everyone receives one in their mail.
With these ecards you can also add your own message and design how it's laid out. There are many preferences to choose from, including adding your signature and linking the card to a social network site. Your recipient will receive the ecards instantly so there's no waiting around for the postman and it will go a long way to strengthening ties with your co-workers. So, let your creative juices flow and see how funny you can make this ecard! On a more serious note it would be remiss of us not to remind you that we offer the most professional holiday marketing solution known to man. Have a look at our business holiday ecards and see for yourself.